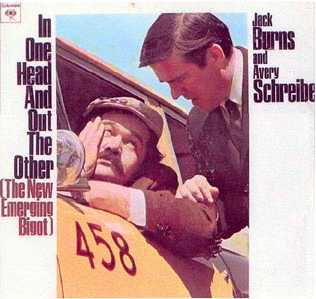 In One Head and Out the Other
(The New Emerging Bigot)
LP undated, circa 1965





Side 1

The Cab Driver and the Conventioneer (13:35)

Side 2

The Faith Healer (11:09)
The Immobile Thumb
The Communist Plot
The Mess
Make-A-Song (2:39)



The Cab Driver and the Conventioneer: This sketch was Burns and Schreiber's most famous and I've read that they got sick of performing it. This recording, taken from the "hungry i" in San Francisco, is undated. Long-time B&S fan Robert Resnick emailed me that the record was already out by 1967 when they had their Our Place gig. (Thank you!). An article on B&S in the July 2-8 1967 TV Channels guide from the Detroit Free Press implies that the record was released in 1965. At this time, Jack Burns was a youthful-looking 31 year old but, in his usual passenger role, he plays the part of a loud, obnoxious passenger probably in his late 40s who enjoys talking with great repetition about people the cab driver has never heard of, girls who were "all over" him, and his time in the military at Fort Dix during "the rough years, '45, '46, '47." Within his many harangues are some racist, homophobic, anti-Semitic (Schreiber in character and life was Jewish), and anti-Communist comments including the following gems:

"Listen, you'd drink too if you had Dave's cross to bear. He's got a son that's an albino. I said, Dave, I said, remember this. I said, Dave, it could a blessing in disguise. I said, Don't take it too hard, Dave. The good lord moves in mysterious ways. I said, remember Dave. I said, remember, you can never be too white."
[Delayed audience reaction as if they were thinking, 'Did he really say that']

The Conventioneer [Burns]: "Them Commies are everywhere. Oh, them Commies are everywhere, you look. Are you kidding me? Everywhere, everywhere these days."
The Cab Driver [Schreiber]: "Yeah, there goes one now, you see 'em? I'll try to hit the next one for ya."

The Conventioneer [about his ex-wife]: "She was a saint, she was too good for me, I was a bum. She's a saint, she's a saint. Here, I got a picture of her right here. That's a saint."
The Cab Driver: "I never saw one before."
The Conventioneer: "Of course not, you're Jewish, you don't have saints."
The Cab Driver: "We've got prophets."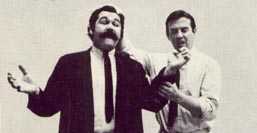 Jack Burns as Rev. Moley attempting to
"heal" Avery Schreiber's crippled hand by
having the lord make "the one hand like the
other." I think you know how that turns out.



The Faith Healer This recording was also made at the "hungry i" in San Francisco. Jack Burns is Reverend Holy Moley, an evangelist for the "divine faith healing and Christian crusade against Communism." He asks his audience to "send whatever you can, be it a penny, a dime, or a dollar to 'Kill a Commie for Christ' Box 224, Tulsa OK." Here are my two favorite of his attempts at "healing":

First, is the foreign man with immobility who, unfortunately, is not healed during that session:
Holy Moley: "He was not cured because Jesus was not in his heart. Why was he not cured? You heard his accent. He came up from Godless Cuba. This sp*c comes up here and wants God to cure him? My friends, God will not cure no sp*cs!"

Then Avery Schreiber uses his thickest Jewish accent as another poor unfortunate needing healing which results in this classic bit of dialogue:
Holy Moley: "Are you one of us?"
Unfortunate: "I'm a convert."
Holy Moley: "That's all right, that's quite all right. I understand that He was, too."

Make-A-Song: This is improv at its finest. Performed at the Cellar Door Night Club in Washington [state?], Burns asks the audience for the following to use in the lyrics for an improvisational folk song: a mode of transportation, a family member, a moment in time, a proverb or old saying. The audience gives him roller skates, mother-in-law, a light year, and the 'saying' "Game called on account of rain" to work with. Schreiber strums the guitar a few times and then sings this very clever song using those four elements. I don't want to give it away, so find the album!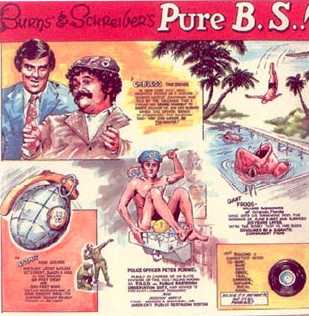 Burns' & Schreiber's Pure B.S.!
Little David Records, 1973
Side 1

Dial-a-Friend (4:33)

Youth Wants to Know (6:18)

The Faith Healer
Part 1--Holy Moley (2:54)
Part 2--First Phone Call (3:20)
Part 3--Giant Communist Frogs (5:20)
Part 4--Second Phone Call (2:59)

Side 2

The Man From P.R.O.D. (5:18)

Family Reunion (9:01)

Booze (2:42)

The Cab Driver (8:57)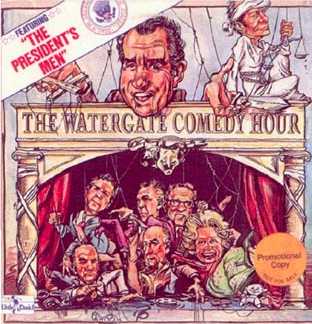 The Watergate Comedy Hour
Hidden Records, 1973 and re-released on Little David Records, 1976.
The 1973 release has a black and white cover with an old lady with blindfold lifted above one eye as "Justice".
The 1976 re-release has a color cover with President Gerald Ford as "Justice."
This later edition also has a doctored photo of Burns and Schreiber on the back,
their heads on the bodies of unidentified Watergaters.
The b&w issue has no photo of Burns, so I, of course, favor the second issue.
Side 1

*Watergate Comedy Hour (5:25)

*The Plan (2:08)

*The Break In (6:18)

Special Investigator (1:52)

Side 2

*Youth Wants to Know (5:58)

The Meeting (1:44)

*Ron Ziegler Meets the Press (3:03)

The Reverend and the President (1:56)

The President's Prayer (2:23)

* -- Jack Burns is one of the performers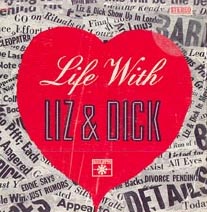 Life With Liz & Dick
Roulette Records (R-25292), undated
Burns did not write any of the material on this album, but he is the voice of the "Salesman" on the track "The Book Store."
Schreiber appears on the tracks "The Painters," "The Poetry Recital," and "The Divorce."
The humor is, of course, based on Elizabeth Taylor and her fifth husband Richard Burton who were married from March 1964-June 1974 and remarried from October 1975-August 1976.
Side 1

Breakfast In Bed (3:54)

Just Plain Folks (3:17)

The Painters (0:40)

The Poetry Recital (3:28)

Hollywood To Rome (3:40)

Side 2

Young Love (3:50)

A Night Out (0:45)

The Book Store (3:28)

The Quarrel (1:09)

The Divorce (3:56)

And So To Bed (1:39)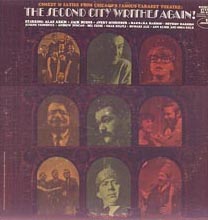 The Second City Writhes Again!
Mercury, undated
Side 1

Football (9:30)

Interviews (5:08)
West Germany
Governor Sunshine

*Senate Hearing (7:05)
*The Commercial
*The Hearing


Side 2

The Museum Piece (14:10)

Man in the Nightclub (7:40)

* -- Jack Burns is one of the performers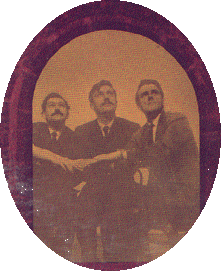 Jack Burns with The Second City comedy troupe.


Of this experience, Jack Burns explains in The Second City by Donna McCrohan, pg. 166: "There's never been anything that's compared to the intellectual stimulation, the creative stimulation, the joy and camaraderie of Second City...It's very strange. I'm very antiwar, and yet in only two places in my life have I felt that camaraderie. One was in the Marine Corps and the other was Second City, and they both had a sense of discipline...It was like a commune. It was the sixties. Second City was, in many ways, the highlight of my life."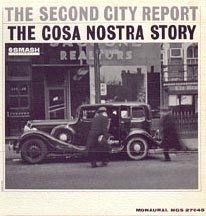 The Second City Report: The Cosa Nostra Story
Smash Records (Monaural MGS 27045), undated, circa early 1960s
Jack Burns wrote all the material on this album ("Cosa Nostra Tango" written by Burns and Schreiber).
The back cover includes the following dedication:

"'A society,' said John Merchant, 'is judged by the cleverness, the Savoir Faire, and the romanticism of its criminals.'
By this test our society was revealed, at the recent senate hearings on organized crime, to be singularly lacking in appeal.
The sordid tales of drug-running, thuggery, murder, gambling, etc., are unrelieved by cleverness, Savoir Faire, and romanticism.
Therefore, if crime must exist, then we dedicate this album to lovelier, more imaginative crime, hoping to play our own small part in bringing this about."

This record was no doubt inspired by the Senate hearings on organized crime during the Kennedy administration which were lead by Attorney General Robert F. Kennedy.
The Kennedy's attention to fighting organized crime continues to fuel the flames of conspiracy theorists who believe the mob orchestrated the assassination of JFK.
Side 1

Senator McClobber (3:12)

Senate Hearing Part I--The Table (5:05)

Cosa Nostra Tango (4:38)

Senate Hearing Part II--The Initiation (2:11)

Side 2

Senate Hearing Part III--The Lunchbreak (2:55)

The Heist (3:05)

Senate Hearing Part IV--The Kiss Of Death (3:14)

The Public And The Cosa Nostra (6:40)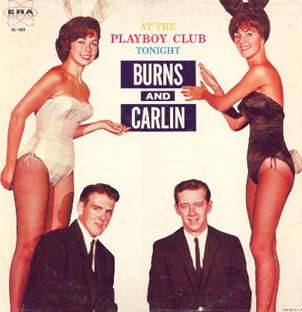 At the PlayBoy Club Tonight
Burns & Carlin
ERA Records, Undated.
This record was recorded in 1960 at Cosmo's Alley in Hollywood
(not at the Playboy Club), but was not released until 1963.


This is what is on the back of the LP cover (the text is in the shape
of a woman's hourglass torso with the title of the record on her bra)


The world has known many great teams---Adam and Eve, Stanley and Livingstone, Sears and Roebuck, spaghetti and meatballs. Now, to this lustrous list are added the names of Burns and Carlin. Burns and Carlin? You don't know? Well, let it be stated here and now that Burns and Carlin are very well known to their families and a small circle of intimate friends. For those whose lives have not yet been enriched, let us state further that Burns and Carlin are comedians, and twice as funny as most comedians. Because there are two of them. There is no truth to the rumor that Era Records chose to make an album of Burns and Carlin because they were the only two comedians left. There were other reasons. Like comedians are notorious egomaniacs, so it was safe to assume that Burns and Carlin would themselves buy enough albums to get Era off the hook. For people around the country who might say "Where have I heard that name before?" or "Where have I heard that voice before?" (or, heaven forbid, "Where have I heard that joke before?") a few biographical notes might be in order. Jack Burns is not George Burns, although this wouldn't be such a bad idea for an aspiring young comic. Born in Massachusetts, Jack spent about twenty years reaching the age of twenty and shortly thereafter joined the Marines. Life as a leatherneck gave him courage enough to try anything, so he became a post-war actor in an off-Broadway production of "Tea and Sympathy." It turned out that he needed more tea and sympathy than New York could offer so he returned home to Boston and became a radio announcer. Meanwhile, back in New York, George Carlin had been born. He learned how to play one-old-cat, teased girls, survived a case of adolescent pimples, and when the War came he joined the Air Force. By spending most of his time as a commercial disc jockey in Ft. Worth, he managed not to impede the Allied effort and victory soon was ours. For reasons thus far unrevealed, he subsequently moved to Boston. As the old witch sighed as they set her afire, "Tis the hand of Fate that rocks the cradle of liberty." Which may explain how Jack and George happened to meet in Boston. Influenced no doubt by the Reverend Edward Payson Steagle who was once heard to say, "East is East and West is West and North is North and South is South," Jack and George migrated to Texas, where they continued their radio careers and collected free drinks by telling jokes out loud in Ft. Worth night clubs. With Aimee Semple McPherson long gone and artichokes growing like mad up around Santa Cruz, Jack and George figured that California, or more particularly Hollywood, was where they really belonged. So they wrapped up their act and came west. Employed by radio station KDAY as disc jockeys, they escaped the attention of the Federal Communications Commission long enough to jolly up goodly portions of early-rising Los Angeles, including Murray Becker. Becker heard the boys and quickly concluded that they had a much bigger potential than competing with time signals, freeway reports and stomach tranquilizers. So he became their manager and co-writer (on both material and loans) and booked them into a fashionable beatnik bistro called Cosmo Alley. Here they were an overnight sensation, eliciting such critical responses as "fabulous comic duo," "new comedy team smash hit," "hilarious performance," "dull and disgusting," "scintillating satire marks debut," etc. Jack Paar's far-flung scouts lost no time in grabbing Burns and Carlin for the insomnia circuit and then Playboy magazine (the Good Housekeeping of people who keep houses) adopted young Jack and young George as their very own. And now, directly from the Playboy Club (whatever and wherever that is) the waiting world can at long last hear not the sick but definitely ailing humor of Inside-out Burns and Outside-in Carlin. Their minds are more unbuttoned than buttoned-down [a reference to Bob Newhart's successful comedy LP] and they agree with Admiral John Sahl Jones who assured his men as they rowed towards the flagship, "In the future lies a head!"



Side 1

Mothers Club (5:41)

Killer Carlin (3:00)

Captain Jack & Jolly George (4:17)

War Pictures (4:39)

Side 2

Herb Coolhouse (5:54)

Edward R. Murrow (4:05)

Lenny Bruce-Mort Sahl (5:46)


The above LP was re-released in 1972 with a different track order under the following title: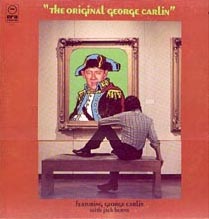 The Original George Carlin
Featuring George Carlin with Jack Burns
ERA Records, 1972 (recorded in 1960)
Side 1

Mother's Club (4:35)

Herb Coolhouse (4:23)

The Original "Person to Person" (3:50)

Captain Jack and Jolly George (2:34)

Side 2

Lenny Bruce (2:05)

Mort Sahl (3:31)

Killer Carlin (3:00)

War Pictures (4:33)


Check out other Burns and Schreiber pages:

Burns and Schreiber in Our Place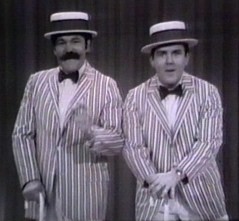 Burns and Schreiber on The Flip Wilson Show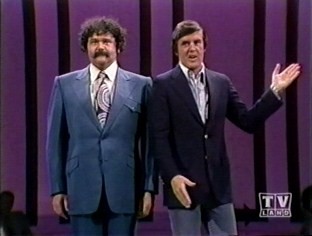 Burns & Schreiber on The Hollywood Palace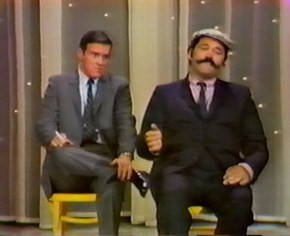 Click Jack Burns to start reading a two-part biography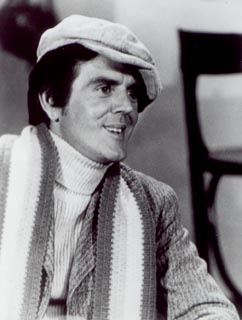 And check out Jack Burns when he guest hosted Saturday Night Live!!!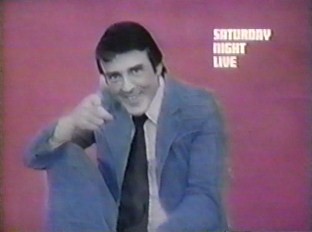 Back to the Courthouse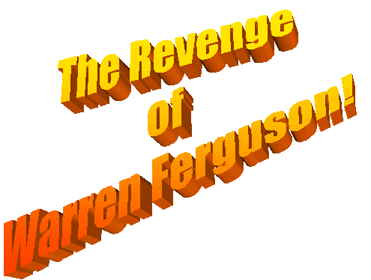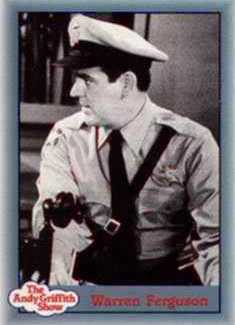 Free Website Counters