Analysis


The Counterfeit Bill

Much fun was made of Warren via the laugh track when he, with his "specially trained eyes," did not detect the two bogus bills that he held in his hands. It is important to note that no individual, including Andy, noticed the fake money. The clerks obviously took Aunt Bee's bills with no suspicion (none that Aunt Bee noticed anyway) and Andy only figured out the case because he was able to connect the businesses that were hit and the business cards only he and Aunt Bee (and perhaps Opie, who does not make an appearance in this episode) had seen. Only when the bills made it to the bank were problems found. The bank probably used special equipment to find inconsistencies not detectable to the naked eye. Fraudulent currency was probably more difficult to spot in the 1960s, hence the new currency designs that have been developed since. Perhaps Finch was a counterfeit virtuoso who got the shading under Alexander Hamilton's eyes just right. Crooks usually stay a step ahead of law enforcement and had probably advanced beyond the class Warren took at the Sheriff's Academy. Maybe, after this experience, Warren returned to his alma mater to teach a refresher course.
Warren Steals the Show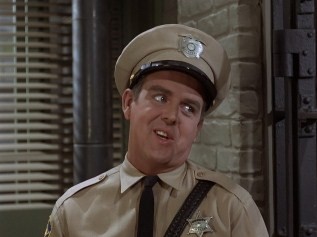 With good looks like his,
Warren can't help but steal the show.



As the title indicated, this episode featured Aunt Bee or, at least, appeared to at first. Andy was skeptical about Aunt Bee taking a job not solely because he thought the print business was a lost cause but also because he questioned Bee's ability to do outside work pointing out to his aunt, "You don't have any experience in the business world." Aunt Bee replied, "Andy, we're often unaware of the capabilities of those closest to us." If one predicted the plot from this point, one would probably expect Aunt Bee to prove Andy wrong and bust out from the bonds of the home to find she has unexplored talents. The storyline, obviously, did not go in that direction and Aunt Bee never proved anything to Andy. She was not even in the final segment in an episode with her name in the title. The character who stole the show in the end, of course, was Warren. It was Warren who gave the closing joke when Aunt Bee was nowhere to be seen. Aunt Bee will try future endeavors such as learning to drive, running for town council, and opening a Chinese restaurant; but, in this Bee-featured episode, she was over-shadowed by the great character, Warren Ferguson.




Warren as Comedy Relief


So far, all the analyses on The Revenge of Warren Ferguson have been critiques on how Warren was regarded and treated on the show. Back to reality: Warren Ferguson was a television character and his worth was determined by his entertainment value. If Andy gave Warren the opportunities he deserved there would often be no story-line with which to work. Now, the question is, 'Was Warren entertaining?' Many TAGS fans would probably say, 'No,' even if they had not seen all his episodes. This site challenges those fans to watch all his episodes and, if they haven't seen them in years, to watch them again.

Generally speaking, TAGS fans overwhelmingly prefer the black & white seasons over the seasons filmed in color (seasons 6-8). Barney Fife was no longer a regular character and, due to his absence, the series no longer had the slap-stick, physical comedy Fife provided. TAGS became more laid-back and story-line driven with a subtle charm rather than going for laughs, especially during the final two seasons. In season 6, however, it seems the writers were trying to follow the old TAGS formula with Warren replacing Barney as comedy relief. In many ways, Warren was similar to Barney. They were both by-the-books deputies who had confident, know-it-all demeanors that hid many insecurities (for Warren, these insecurities finally surfaced in Girl-Shy). Warren never had a chance to fully evolve into his own original character and, aside from his "huh? huh? huh?" gimmick, one can almost hear Barney saying some of Warren's lines (the episodes The Bazaar, A Warning From Warren and Otis the Artist were right up Barney's alley as he was in similar story-lines in previous seasons).

As comedy relief, Warren was very capable. He was a believable character and not the usual TAGS goofball (Gomer, Goober, Ernest T. Bass), yet he could still be very funny and entertaining. Aunt Bee Takes a Job is the best example of Warren as comedy relief. Standing on the counterfeiters' bumper helping them dislodge it from the squad car while giving them tips on how to improve their printing business--that's just funny. In fact, the entire episode is one of the funniest of the color seasons (that character Mr. Clark was a hoot). Plus, as mentioned in the synopsis, Jack Burns really demonstrated his acting prowess here.

Jack Burns came into the series at a disadvantage. He was replacing a beloved character who was played by an actor who, by that time, had won three Emmy awards for the role. Burns was known more as a stand-up comedian and comedy writer and was very underrated as an actor. The only episode where his acting may have appeared a little mechanical was in The Bazaar, his first episode on TAGS. But his character was much more of a strict legalist in this episode (it was one of only three episodes where Warren doesn't remove his hat, the other two being Aunt Bee Takes a Job and, of course, The Legend of Barney Fife--Warren wouldn't want his idol to be jealous of his thick, slick, dark, handsome head of hair) so Burns probably couldn't play it with the relaxed ease he exhibited from his second episode on. By A Warning From Warren, it appears he became more comfortable in the role (or, more likely, Burns's character wasn't given a script full of law enforcement principles to recite as in much of The Bazaar) and his performances got better and better. Warren also began fitting better into the flow of Mayberry culminating in, what I believe was, his best role in Otis, the Artist. Although it had a Barney-type story-line, Warren made it his own and proved a lovable character who interacted well with all the other main characters on the show. Plus, the episode started to establish a unique personality for Warren as did Girl-Shy. Unfortunately, Warren's stay would not be long enough for his personality to develop further.

Most people do not like change and Barney fans probably wouldn't have accepted Warren no matter what; but he was a funny character with a superb actor behind him and, if given more than 11 episodes, might have become a favorite regular (come on, wouldn't you rather see more Warren than more Goober?) and spared us all from Howard Sprague (just kidding, Howard was cool).