Jack Burns Biography Part Two



I took a lot of time & care in creating this biography and tried to reference all sources. If you find any use for this biography or any other pages on this site (I guess someone might) please give some "dap" to "The Revenge of Warren Ferguson!" website. It's the proper thing to do, ya know what I mean, huh-huh-huh?
Any grammatical or factual errors/omissions (factual changes backed by legitimate source), please contact the "webmistress" Melynie at mwithing@gmail.com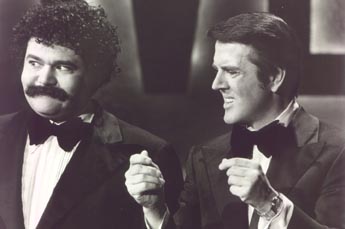 On The Burns and Schreiber Comedy Hour, Jack looks like
he's reading another curious response from the "Mark 12"...
or maybe he's reading their reviews.



Burns started making television appearances again in 1971, acquainting himself with the teen crowd in a guest role on The Partridge Family ("Dora, Dora, Dora") and playing Officer Rudy Colcheck on the short-lived ABC sitcom Getting Together (a Partridge Family spin-off) starring bubblegum pop star Bobby Sherman.

In the second season premier episode of The Partridge Family, Burns played Stillman Kelly who was the father of a teen-aged girl, Dora, who was scheduled to sing with the Partridge Family. Unfortunately, his daughter could not sing on key. Mrs. Partridge met Kelly to gently suggest that Dora was not ready for the stage. Kelly, who owned a radio station, once sang back-up in a short-lived band and hoped his daughter would enjoy the success as a musical performer that had escaped him. To ease Mrs. Partridge's concerns, Kelly explained that he taught his Dora everything he knew and proceeded to serenade mother Partridge (off-key, of course) "I Left My Heart in San Francisco."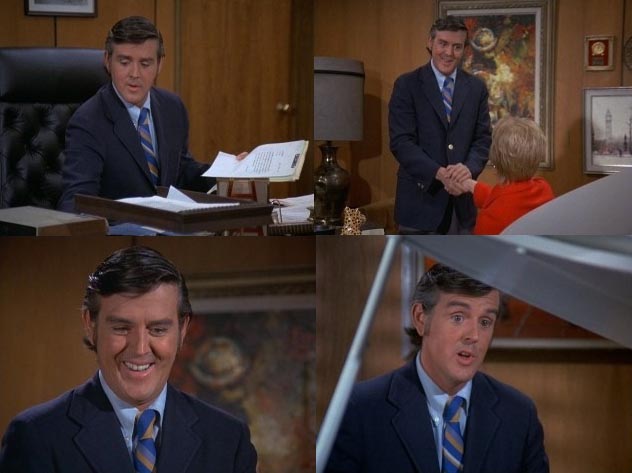 Scenes from Jack Burns's guest spot on The Partridge Family which originally aired
September 17, 1971 (available on the Second Season DVD--it is worth the $29.99).
His character is very much like his Andy Griffith Show character, Warren, in his facial
expressions and mannerisms. One can almost imagine this is Warren after he was forced
to leave Mayberry under the witness protection program (and finding his true calling in
life to be in music not in law enforcement).
Coincidentally, the first episode of Getting Together aired September 18, 1971 which was the day after the original airing of "Dora, Dora, Dora." Officer Colcheck was the boyfriend of Bobby's landlady-of-sorts, Rita, who let Bobby [a struggling musician, of course] and his on-screen sister live in her antique shop.

Of Burns's character, Sherman [well, whoever was writing for Sherman] wrote "he's in his 40's [Burns was actually not quite 38 at the time], he's really nice and he's a policeman, or rather, he's a cop. See, he really wants to be hip. He knows the world is changing and that when it used to be a big thing to be a policeman, it isn't anymore and he wants to do something about it. So he watches Mod Squad every week...so he'll know how to act like a hip cop." Burns commented on Sherman in an issue of Tiger Beat: "he's better-looking than I am--darn it" (this webmistress respectfully disagrees).26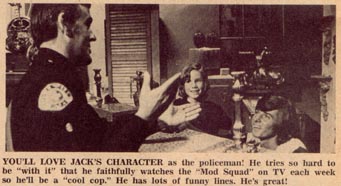 The teenie-boppers of the early 1970s got to watch Burns play Officer Rudy Colcheck
alongside pop star Bobby Sherman in the sitcom Getting Together in the fall of 1971.
The first episode aired the day after his appearance on The Partridge Family.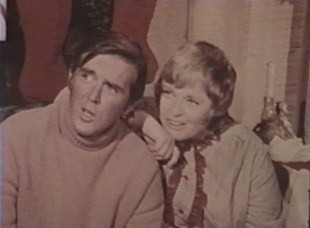 Officer Rudy Colcheck and Rita (Pat Carroll) singing
"Silent Night" in the Christmas episode of Getting Together.
Bobby Sherman's character complimented Rudy's singing voice.


The sitcom aired opposite CBS's legendary All in the Family which contributed to its brief fifteen-episode run so, I guess, it was "Easy Come and Easy Go" for Getting Together. Burns quickly moved on to other television opportunities appearing several times on Love, American Style, an episode of Nanny and the Professor among other things. In 1972, Burns re-teamed with Avery Schreiber and made the television variety show rounds again including several appearances on The Flip Wilson Show and The Tonight Show Starring Johnny Carson. That year, Burns also started providing the voice for Ralph in the Hanna-Barbera animated show Wait Till Your Father Gets Home which aired from 1972-74. Ralph emulated Burns's bigoted conventioneer character which must have pushed the envelope for cartoons in the early '70s.27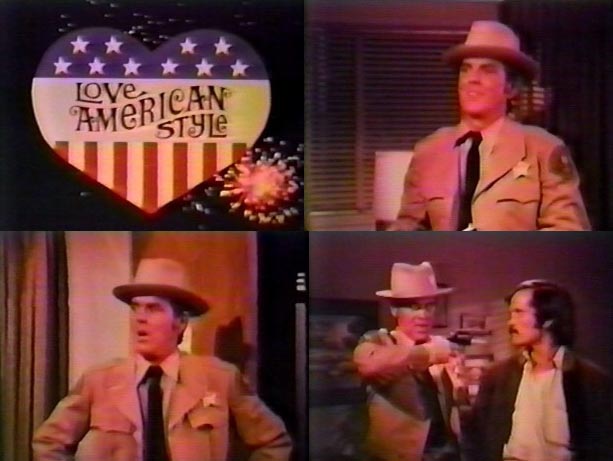 Warren Ferguson was not the only deputy sheriff Jack Burns played. He was
Deputy Sheriff Preston Steele in the sketch "Love and the Eyewitness" on Love,
American Style which first aired November 19, 1971. Here, he continuously interrupts
a honeymoon couple in their hotel room because they had witnessed a bank robbery.
Just like Warren, who caught the museum thieves in The Cannon, Preston Steele gets his man.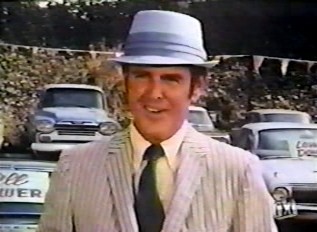 Jack Burns as Harry Phillips, film-buff and owner of
"Harry Phillips Presents The Late Late Cars." Most of his
time with customers consisted of bragging about what famous
movie scene preceded his car commercials during the
Late Show. From the Nanny and the Professor episode
"Good-bye, Arabella, Hello," first aired December 13, 1971.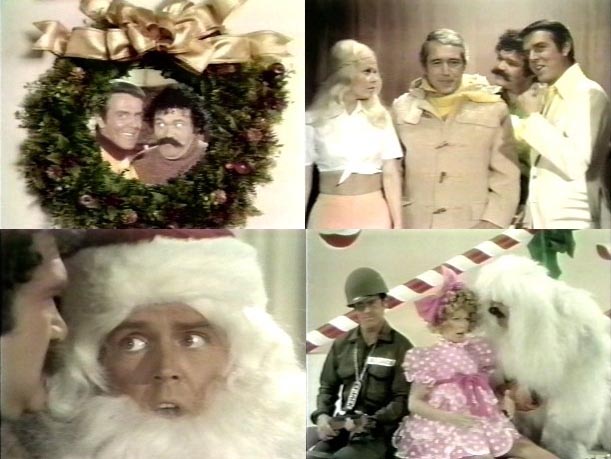 Sally Struthers was not at a loss for hunks on The Perry Como Winter Special
(aired December 10, 1973). On this show, Jack Burns showed off his diverse acting talents by
playing G.I. Joe, er, G.I. Jack and Santa Claus as well as his usual charming conventioneer.
I haven't even mentioned that snazzy white suit!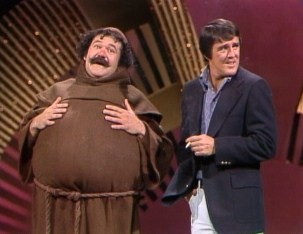 Burns and Schreiber on The Midnight Special. It's available
as a bonus on the "Live on Stage in 1975" DVD.



Burns on the Dean Martin Celebrity Roast in 1974, the victim: Kirk Douglas. Douglas's response:
"You know, the other day I asked Dino who's going to be on today's show and he said,
'We got Crosby and Burns,' and I thought he meant Bing and George and I got stuck with
Norm and Jack. Oh, and then there's Burns and Schreiber, the finest comedy team
since Haldeman and Ehrlichman" [Watergate humor...it was the '70s, of course].



Nineteen seventy-three was a pivotal year. As Burns observed at the time, "Right now's a good time to be doing comedy. The war is over and people are ready to laugh again."28 It was certainly a good year to be Burns or Schreiber as their popularity reached its zenith. They released an album on Flip Wilson's Little David label, Burns' & Schreiber's Pure B.S., as well as The Watergate Comedy Hour. They also did a television special for ABC that was a hit, would be nominated for an Emmy, and won a Writer's Guild award.29

ABC gave them their own show, The Burns and Schreiber Comedy Hour, as a summer replacement which received mixed reviews. Newsweek was impressed by Schreiber's versatility but thought "the block-jawed Burns is still largely doing variations on his boorish conventioneer, whether playing a pompous detective named Honeywell or a plastic swinger who calls himself the 'King of Hearts'"30 while Time thought both comedians had "lost all the sharpness of their Second City heritage."31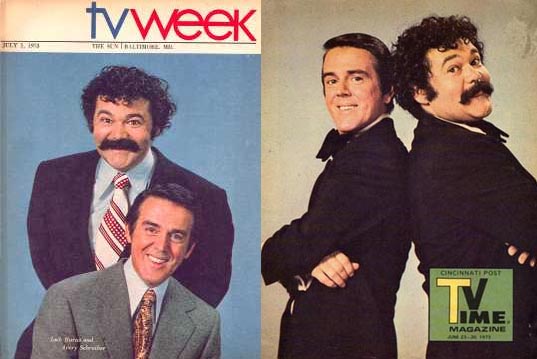 The Burns and Schreiber Comedy Hour
was front-page news in the TV weeklies for the Baltimore
Sun (July 1, 1973) and the Cincinnati Post (June 23-30, 1973).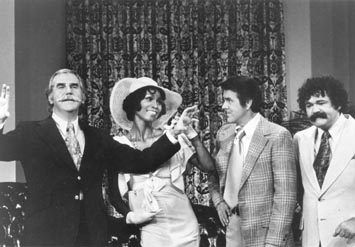 Ed MacMahon and Teresa Graves on The Burns and
Schreiber Comedy Hour. Gotta love Jack's suit!




Unfortunately, the show never took off and was yanked after thirteen weeks. Burr believes the show's failure was due to a combination of ABC's third-place standing among the three networks (not all the ABC affiliates carried the program) and the network's efforts to force Burns and Schreiber to defy their style for the sake of commercialism.32 Still, according to Burr, "When Rowan and Martin went off the air [in 1973] Burns and Schreiber were the hottest team around, at least on TV and in clubs."33 They continued performing in Las Vegas and elsewhere as, in Burns's words, "actors pretending to be stand-up comedians"34 but their big-ticket appeal was on the decline and the act broke up for good in 1974.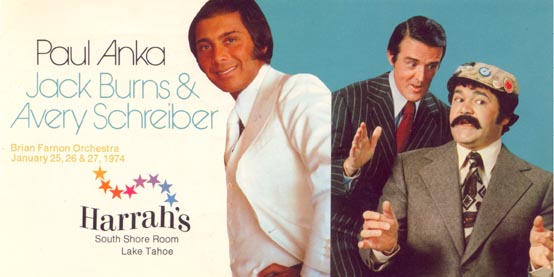 I was 5 days old when Burns and Schreiber started this 3-night performance at Harrah's
South Shore Room in Lake Tahoe; and what great shows they were! I didn't spit up once!




For the rest of his career, Burns concentrated on writing although he would appear on television again. He was head writer for the first season of The Muppet Show in 1976 (earning an Emmy nomination).35 He returned in 1979 to write The Muppet Movie. Schreiber was one of the guest stars in the first season and there were several references to his former comedy partner in the episode. "The Monster of Moors" tried to out-insult "Sir Avery of Macho" by telling him that Burns and Schreiber was his second favorite comedy team...second to Starsky and Hutch. In another scene, Schreiber confided to Fozzie Bear that, though he loved his comedy partner "like a brother," he was frustrated that Burns wouldn't allow the "banana-in-the-ear" shtick into their act because it was not dignified. When the bit got a laugh, Schreiber looked at the camera and said, "You see Jack? I told you it would work." Fozzie and Schreiber also conversed in their own "huh, yeah" dialogue only, this time, Schreiber was on the "huh" end of the bit.

On March 26, 1977, Burns hosted Saturday Night Live where he performed in several sketches including re-living his Marine Corps days in "Marine Wedding" and doing a take-off of Rocky Balboa. Three years later, Burns became producer and script supervisor (as well as occasional performer) in, what was slated to be the west coast's version of SNL, Fridays. Burns also barked out the introductions to the show SNL style: "Liiive, from the Los Angeles Basin, it's Fridays..." The late-night comedy sketch series never took off like its predecessor. It was canceled after three seasons but has achieved a level of cult status today, especially since it starred Michael Richards and featured the writings and appearances of Larry David--both of whom achieved legendary fame with Seinfeld.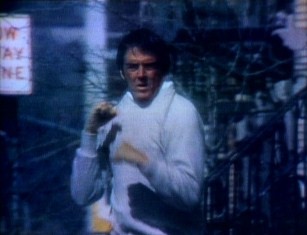 Rocky Burns!




In regards to Fridays, Burns may best be remembered by casual viewers for a confrontation he had with Andy Kaufman after the latter ruined a live sketch and started a mini brawl when he refused to read the cue cards during the September 18, 1981 episode. It was soon revealed that the ruckus was staged but not all the Fridays cast and crew knew about it.

There has been much speculation as to who knew what about the brawl; but, in a 2002 interview on Speaking Freely, performer Michael Richards (Kramer on Seinfeld) set the record straight (well, sort of): "No one, as a matter of fact, knew about it, except Jack Burns, myself, Andy, and one of the other producers, John Moffet. The cast did not know...Jack Burns, who was in on it, made a rush for Andy. Then Andy got physical with Jack, and then I'm calling out, 'Cut to commercial. Cut to commercial.' And a couple of crew guys went up to get Andy, who was on top of Jack. And they thought that Andy was really out to do some harm..."36

After seeing a bootleg copy of the brawl, Richards was definitely mistaken on the details. Burns, looking very cool in shades and leather jacket, jumped onto the stage from the front and called out, "Bobby, go to commercials...Bobby, go to commercials, man!," while ushering two actresses off the set. He confronted Kaufman who, acting as though he had done nothing wrong and was just having fun, asked, "Why do you have to be such a..." Burns barked something at Kaufman (after listening to it a dozen times, I still can't make out what he said; he might have just yelled "What!") and pushed the trickster with his left hand. Kaufman then awkwardly shoved Burns with both hands and immediately turned and darted away from the ex-Marine sergeant who could, no doubt, kick the comic prankster's you-know-what if it were a real fight. Burns followed him, tossing a chair out of his way in the process and yelling, "Come on, man!" Two stage hands restrained Burns who immediately calmed down. The whole thing took about six seconds.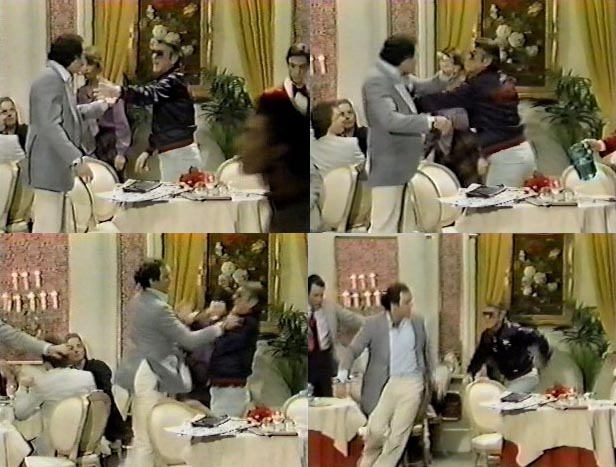 Andy Kaufman hoping Jack Burns won't hurt him.



Anyway, the incident was reenacted in the movie Man on the Moon with Kaufman's comedy writer and Comic Relief founder Bob Zmuda playing the role of Burns (and looking NOTHING like him, I might add). Fridays also gave us the only televised live, non-lip-synced performance by KISS that promoted their brilliant, yet unappreciated, masterpiece Music: From the Elder, but I digress.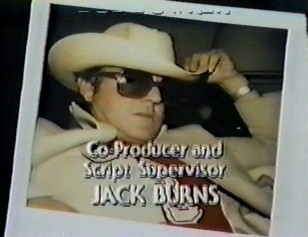 What's-his-name on Fridays



Burns has remained in semi-retirement since Fridays but has re-surfaced several times through the years. In 1995 to 1996, Burns lent his voice to radio public service announcements as "Vince" in "Vince and Larry the Crash Test Dummies." One of these commercials sported the awesome jingle "Back Seat Baby." Just going from memory, it had the line: "Back seat baby, babies safer in the back / Back seat baby, babies' faces stay intact." I don't know if Burns wrote that line, but it's classic.

In 1998, Burns played a eulogist in the film Sour Grapes, which was written and directed by Fridays writer and performer Larry David. He is in the first scene; in fact, he is the very first person you see in the film and his part lasts about a minute, so watching this film (the most important part of it, anyway) is a breeze. He also did the voice of Edward Christian in The Simpsons 1999 episode "Beyond Blunderdome" (Season 11, Episode 1). Burns had a sizable part in this episode, which guest starred Mel Gibson, and even did his "huh? huh? huh?" bit. Burns did more work in animation by providing the voice for Sid the Squid in the popular cartoon series Animaniacs, which ran from 1993-98. According to his Wikipedia bio, Burns gave Sid "a raspy, Donald Duck kind of voice." More recently, Burns did a part on an episode of the short-lived Fox series The Pitts, which aired in 2003, where he re-created a bit of his taxi-cab routine.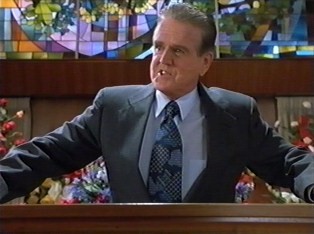 Warren giving a lecture on mosaics at a TAGS reunion.
Just kidding. Those Mayberry snobs wouldn't invite Warren back.
This is Jack Burns as a eulogist in the 1998 film Sour Grapes.




Burns and Schreiber teamed up again in the promotional film The Invasion of the Space Pirates. The film promoted England's Central Television Facilities. It was not the first time the comedy team promoted a network, as they also starred in the NBC Fall Preview Two In A Taxi in 1966. Over twenty years later, their Space Pirates, according to the case, won First Place Gold Camera Award in the 1989 US Film and Video Festival. The 15 minute promo showcases typical B&S dialogue (You know what I mean, huh? huh? huh?) with some Airplane style humor thrown in. It appears to be a video that was shown to potential hires. It is very '80s and very cool.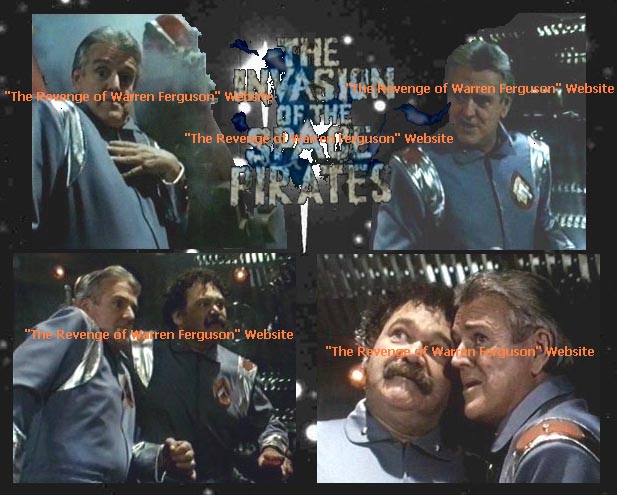 The Invasion of the Space Pirates: The Biggest WHAT? in Europe... is my most cherished Burns
& Schreiber find and it's MINE! MINE! MINE! Avery Schreiber played a greedy, people-hating
Capt. Manzini type bent on taking over the world. Burns was his dim, starry-eyed assistant
who dreams of directing a sitcom. Actually, their characters' personalities were similar to the
Friars in the sketch they did on The Flip Wilson Show. As you can see, Jack Burns
looked great (Schreiber was cute, too). I made this collage of screen shots for the B&S fans
who find this site, but THAT'S IT! That's all you get!!



Avery Schreiber died in 2002 and Burns hosted an event at the Improv in West Hollywood to remember the actor/comedian. Burns demonstrated the warmest admiration for his former comedy partner, opening his speech with, "My name is Jack Burns and I'm a Schreiberholic," reminiscing about how he became addicted to Schreiber's sense of humor during their Second City days, and commenting on at least one example of Schreiber's genuine optimism and compassion.37

Burns's first comedy partner, George Carlin, died of heart failure June 22, 2008. They had remained close friends for almost fifty years. Burns told the AP, "He was a genius and I will miss him dearly." Burns also recalled Carlin phoning him several times a year to remind him of various anniversaries such as the day they first met, the day they did their first show as a comedy team, and the day they were mistakenly arrested for armed robbery in Texas. Burns was one of the speakers at a private memorial for Carlin of approximately 150 friends and family members on June 30, 2008 in Los Angeles.38

On a personal level, Burns was a self-professed loner. According to a 1973 TV Guide article, he lived in the suburbs with his wife (Second City hostess Violet Torre)39 [no mention of children], 11 cats, two dogs, and two pigeons [maybe there was no room for children?]. Now, any man who can share his home with that many cats must be a good guy. Although he looked beefed up in his role as Warren, Burns was known for being in impeccable physical condition not to mention dapper style. In his own words, every day he would "run my two miles, do my 400 pushups, and get ready for my...massive coronary."40 He also had a fascination with hurricanes and, in Lochte's words, "flies through the eyes whenever the opportunity presents itself."41 So, among his many other talents, he could fly planes through hurricanes (hopefully, he did not try Katrina). Burns also enjoyed life on the water. More recent information (someone's blog) found Burns taking long cruises during the winter to such places as Indonesia and, during such vacations, kept in shape as a "stairmaster freak."42 I've heard from a good source (a comedy writer and friend of Burns) that, although he was not up on the latest technology and didn't even own a computer (but there are so many wonderful things on the Internet!---that "Revenge of Warren Ferguson" site, for instance), Burns remained a newshound who was interested is all the headlines surrounding politics and other current events. He died of respiratory failure on January 27, 2020 at a senior care facility in Tocula Lake, Calfornia. He was 86 and had celebrated 31 years of sobriety the previous month.43 As well as helping others in the comedy field, he also helped those struggling with alcohol stay sober, which adds immensely to his lifetime achievements. Wherever Burns is now, one thing is certain: the girls are still all over him.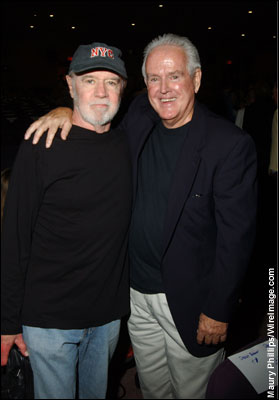 Thanks to Scott for the link to this photo of George
Carlin and Jack Burns at the Memorial for Tonight
Show writer Pat McCormick on September 7, 2005.
The photo is from Variety.com. Other photos of Burns
from that event can be found at WireImage.com.



Back to Part One of the Jack Burns Biography

End Notes



26. "Bobby Writes To You: Meet My 'Getting Together' Co-Stars!," Tiger Beat (August & September 1971), pg. 18 ("Bobby Sherman" quote in August, Burns quote in September). The September issue also has four photos of Burns as Rudy Colcheck on pages 3, 4 and a real cute one on page 18.
27. One of my favorite items in my collection is a photo of Burns in the studio preparing to read his lines in a very decorative shirt with script, microphone, and a shot of his cartoon character on a large screen above his head.
28. "On the Scene," Playboy (August 1973), pg. 163.
29. Burr, pg. 165.
30. "Smiles of a Summer Night," Newsweek (July 23, 1973), pg. 47.
31. Judy Fayard. "Viewpoints," Time (August 6, 1973), pg. 59.
32. Burr, pp. 164-65.
33. Ibid., pg. 166.
34. Ibid., pg. 159.
35. Ibid., pg. 165. Rowlf, the Muppet dog, was "co-host" with Burns and Schreiber in Our Place which was a showcase for other early Muppets.
36. Internet source: http://www.firstamendmentcenter.org/about.aspx?id=12083. Transcript of Ken Paulson interviewing Michael Richards on "Speaking Freely" recorded February 28, 2002 in Aspen, Colorado. For more information on Fridays, check out http://tvparty.com/80fridays.html. For a behind-the-scenes glimpse at what it was like to work with Burns on Fridays, see An Andy Kaufman Story written by Friday's actress Melanie Chartoff.
37. Internet source: http://povonline.com/2002/News012702.htm
38. Various Internet sources, i.e. Maher and Shandling honor George Carlin at service - BostonHerald.com and George Carlin Death Leaves Legacy Of Laughter by Jack Ryan - The Post Chronicle.
39. Sheldon Patinkin. The Second City: Backstage at the World's Greatest Comedy Theater. (Naperville, Illinois: Sourcebooks, 2000), pg. 64.
40. Lochte, pg. 18.
41. Ibid.
42. Internet source: Nashville Knucklehead: Lunch with Jack
43. Internet source: Hollywood Reporter: Jack Burns, "The Muppet Movie" and "Muppet Show" Writer, Dies at 86

Back to Part One of the Jack Burns Biography



Other pages connected to this site you may find of interest:

Burns and Schreiber in Our Place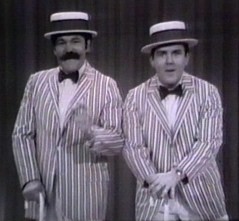 Burns and Schreiber on vinyl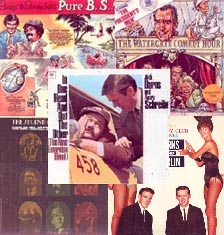 Burns and Schreiber on The Flip Wilson Show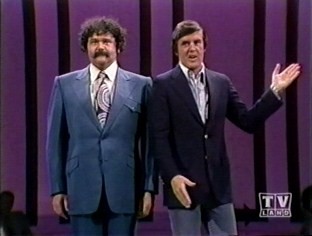 Burns & Schreiber on The Hollywood Palace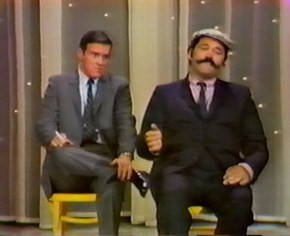 And check out Jack Burns when he guest hosted Saturday Night Live!!!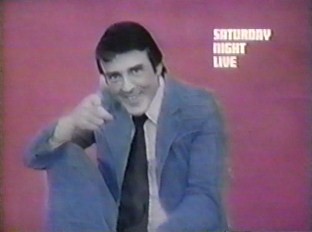 Back to the Courthouse
Free Website Counters