Analysis

Unrealistic Plot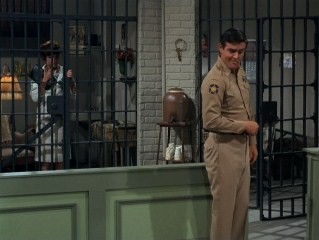 What woman could resist such charms?





I know it is just a television show but, come on, let's not insult the viewer's intelligence. Is it at all realistic that Helen, who, during her boring and perfunctory romance with Andy, probably had no action for quite some time, would refuse the advances of the extremely handsome and desirable Warren Ferguson? Is it? Huh? Huh? Huh? Are you kidding me? Don't kid me! Don't tell me Helen wouldn't be all over him! The writers probably realized that and made Jack Burns thicken his Boston accent in the scene so he wouldn't look as serious in his attempt at seduction. If Warren was really allowed to be romantic, what woman could resist his charms?




Did Helen Overreact?



Warren, as adorable and lovable as he was, was a strong, muscular man who used plenty of body language and could certainly be intimidating to the opposite sex. It is understandable that Helen was alarmed when Warren kept following her and invading her space, but was the tag "monster" (or "wolf"-- what was that about?) warranted? Helen acted as if Warren was the Boston Strangler! If he really wanted to have his way with Helen, a locked cell door would not have stopped him. Heck, it would not have stopped anyone as the key is hanging on the wall next to the cell. Moreover, that cool camera shot taken from inside the cell shows that Helen had a clear view of the back room of the courthouse and would have seen Warren stroll back to the couch and fall asleep--rather odd behavior for a "monster."

It is also debatable whether the word "chase" was accurate. Warren was deliberate in closing in on Helen and not giving her much personal space, but they were not running around the courthouse. Helen may not have known Warren all that long, but by this time she knew him well enough to see that he was a gentle and compassionate person. They worked together on the church organ committee and we are to presume nothing happened. O.K., one might counter that Girl-Shy was filmed before The Church Organ (the episodes were often first aired in a different order than the order in which they were filmed), so she had not actually worked with Warren on finding a used organ for the All Souls Church yet. Still, she witnessed his concern for her and Andy's safety in A Warning From Warren and he was ostensibly no cad during their other encounters. Andy knew his deputy well enough to realize something "strange" was going on and urged Helen that "the least we can do is listen to him." Helen retorted angrily, "That's all we've been doing is listening to him!" When was this? Unless a meeting between the three where Warren was allowed to calmly explain his side was cut out of the final edit, I did not observe much "listening" on the part of Helen. She seemed to have already made up her mind. So much as Andy's reminder to her that "even a criminal gets a trial" didn't sway Helen. Andy wanted to give his deputy the benefit of the doubt and Helen should have realized that Warren was not being himself and allowed him to explain before flying off the handle.




Andy the Control Freak



Why didn't Andy accept Warren's offer to help clean up the highway accident? Certainly a man who graduated 4th in his class at the Sheriff's Academy could handle such a relatively safe task. Apparently, there were other officers at the scene, so Warren would not be working alone. Plus, with only one squad car between them, Andy had to cancel his dinner date to go. If Warren went, they could have dropped him off at the site of the wreck and driven on to Mt. Pilot. If Andy was unwilling to allow Warren to manage such situations, how did he expect him to become a seasoned lawman? Moreover, Andy wouldn't even let Warren answer the phone. Warren did work there, right?-right?-right? He was the deputy sheriff, right?-right?-right? Was he that much of a dunderhead in Andy's eyes that he couldn't even handle phone calls? Nothing in the series would lead one to believe that was the case. Maybe Andy was itching for an excuse to get out of his date with Helen. Whatever the reason, Andy needed to chill out and let Warren do his job.




Living Arrangements in Mayberry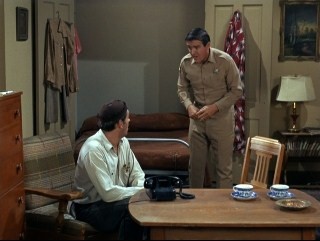 Up in Warren's Room:
A rare look inside Warren's humble pad.
Something I have always thought was odd about Mayberry was the living arrangements of its residents. Barney and Warren were deputy sheriffs which I would think is one of the most important occupations in the community and would garner at least a decent living wage. Yet, both Barney and Warren were forced to live in stale rooms in boardinghouses (apparently, Warren's most valuable possession was the portable television set and Barney's pride and joy was a hot plate). The women of Mayberry (i.e. Helen, Thelma Lou, and even Goober's brief love interest Lydia Crosswaithe), however, could afford nice little houses. I would think a deputy sheriff would earn close to a teacher's salary. Unlike my other analyses, this rant is not really a defense of Warren; it is just something that has always bugged me.