Analysis


Warren Almost Succeeded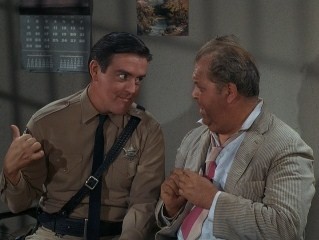 Warren lets Otis know he is "O-U-T, Out!" of the jail
system surrounding Mayberry if he does not cooperate.



Several episodes of The Andy Griffith Show dealt with getting Otis on the wagon. Warren was closer to succeeding than anyone else in the series. Otis claimed to have reformed in Aunt Bee the Warden, announcing that he would never touch the sauce again for fear of returning to "The Rock," his name for the Taylors' house with Aunt Bee bossing him around. There was no foundation to this claim and no proof his sobriety lasted beyond stepping off the Taylors' front porch.

An even more doomed attempt was in the episode The Rehabilitation of Otis. After reading a 25 cent magazine on psychology, Barney thought he was expert enough to dive into Otis's psyche and discover why he drinks. The Rorschach test Barney conducted was a complete disaster and Barney and Otis ended up arguing over whether one of the ink blots was a bat or butterfly. Barney then acted as Otis's sponsor and asked Otis to call him whenever he experienced a craving for alcohol. When answering his late-night call only to discover Otis already drunk and riding a cow, Barney arrested him. Otis was so angry, he left to give his "business" to the Mt. Pilot jail. Andy and Barney ended up driving all the way to Mt. Pilot, when they should have been patrolling their own jurisdiction, to beg the town lush to return. Barney promised Otis that he could come back to "everything just like it always was"; in other words, Otis would have his run of the jail [giving in to an alcoholic's demands is probably not the best way to help him conquer his problem]. Barney actually ended up crying over Otis's departure while holding the drunk's bathrobe [now that's down right pathetic].

Warren's tactics were far less harsh than Aunt Bee's or Barney's; plus, his "valve theory" presented a positive reinforcement. Instead of threatening him with hard labor at "The Rock," or frustrating him with psychological tests, Warren tried to get Otis interested in an enjoyable new hobby. Unlike Barney, Warren was also ready for Otis's predictable response to go to prisons in other counties. His "blacklist" threat forced Otis to try mosaics or lose his home away from home. This strategy actually worked. The only reason Otis fell off the wagon again was because Andy could not stand to have an old friend's artwork that was made especially for him on his wall for even one day.




Andy's Apathetic Attitude



Sometimes it takes an outsider to look at a situation and come up with innovations that insiders may never have thought possible. Andy would admit as much to the meddling yet, at that time, helpful Clara in Opie's Group. At this point in the series, Andy was comfortable with the status quo. In fact, even in the beginning, he was very easy on Otis to the point of giving him a birthday party in his cell in The Inspector. Barney was frustrated at how Andy molly coddled Otis, citing it as one of his areas of disagreement with the sheriff in Andy on Trial. Andy was rescind to believe that Otis would never change and will even tell the drunk he has given up on him in Otis the Deputy.

Andy's quote, "Warren's kind of new here and there's a lot of things he doesn't understand," deserves special mention. I guess, in Mayberry, it needs to be understood that Otis will always be the town drunk and, with this special distinction, should be catered to like a hotel guest at the jail. As someone "new" to Mayberry, Warren saw things differently. At first he took the hard-line but then, after considering the matter, attempted an innovative theory to help Otis lead a richer life thus going "not so much by the book but by the heart" as was the lesson Andy taught Barney. Andy definitely needed a fresh look at his town through the eyes of an ambitious and compassionate new deputy. If Andy had cooperated a little more, Otis may have chosen the better path when he was at "the crossroads." Warren does not get enough credit for his part in this episode.




Fitting into Mayberry Society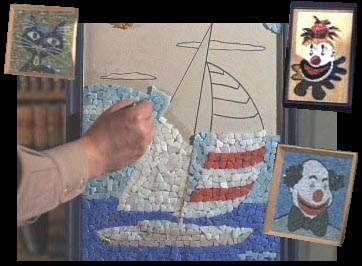 Samples of Warren's works of art. I don't
like clowns, but that's a cool cat!



This episode, and also The Church Organ, demonstrated that the Boston native fit very well into the Mayberry social scene. Not only that, he showed he could help enrich the lives of some of Mayberry's most well-known residents. He was involved in the Mayberry art class, sharing a love for art with Aunt Bee. He put on a presentation at the class that might even have included out-of-towners in the audience (Warren, thus, was representing Mayberry to these visitors). If Otis actually showed up to the class sober and told his story, he would have, thanks to Warren's influence, given the visitors, what Warren might call, "one of your unforgettable moments." On a local level, Warren convinced Andy, the town stick-in-the-mud; Otis, the town drunk; and Goober, the town, well, Goober, to go to the class thus bringing culture throughout the social fabric of Mayberry. If he was allowed more time in the series, Warren may have been involved in other Mayberry social events and touched many more lives.





Warren's "Feeling for Others"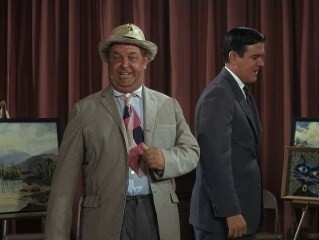 Otis makes a travishamockery of Warren's program.
Warren will hold no grudges for this ugly scene.




As Aunt Bee noticed, Warren demonstrated a "feeling for others" during his short tenure in Mayberry. Nowhere was this more apparent than at the end of Otis the Artist. Otis humiliated Warren at the art class. When Otis rambled through his alcohol-soaked speech, an embarrassed Warren turned his head away from Otis and the audience. Warren was trapped in an uncomfortable predicament at an event which meant so much to him because of Otis's inconsiderateness and self-centeredness. When Otis gushed out the word "mooosaics" as if he were about to vomit, one could detect agony in Warren's voice ("Oh Otis, please") and on his face. Otis, an underachieving slob Warren was trying to help, was making a mockery of a very important part of Warren's life that the deputy hoped to share with others. After such ignominy, Warren was still concerned for Otis's safety and called jails in other towns to find out where he was. When Otis returned, Warren showed no ill-will towards the drunk, only empathy and a bright smile in seeing his new friend back. Warren was a better man than most.