Analysis


The Myth of "The Legend"

Warren from somewhere (probably from his uncle Floyd) got the idea that Barney Fife was a legendary officer of the law during his tenure. This "myth" was created by Andy. Many times Andy got Barney out of a jam (sometimes of a very serious nature) by working behind-the-scenes to help his skittish deputy succeed. Andy allowed Barney to believe he achieved the glory all by himself, thus artificially inflating his already healthy ego. In this specific case, there was no harm done. Barney was no longer defending the public directly, although he should have, at least, informed Andy of the warden's phone call that an escaped con may be visiting his fair city--a sheriff might want to know such things. Mayberry's former deputy, at this point, was working in an office organizing finger prints. Barney also realized he was lucky he was not killed by Noonan and thus did not mind giving Warren credit for the capture (a breathless Barney seemed more rattled than confident during his immediate post-capture scene with Warren). Barney was accustomed to receiving credit for what Andy did for him; so, he must have assumed Warren would appreciate receiving credit for something he did not do.

When Barney was deputy, however, Andy's actions to cover up his deputy's incompetence could have had dangerous consequences. If Barney was not up to the task of protecting the residents of Mayberry, he should have been replaced. No matter how infrequent crime occurred in the small North Carolina town, people's lives were still in the hands of the men in charge of law enforcement. Sure, Andy was helping his friend but, what if he was unable to help him one of those few times when a violent criminal was on the loose (it only takes one)? When lives are in the balance, friendships must be cast aside. Warren, although also of an excitable nature, was much more in control and obviously Andy realized this as he was able to take two weeks off that he never dared take when Barney was his deputy. Let's face it, Warren never had to keep a bullet in
his
pocket.



"It's His Town"????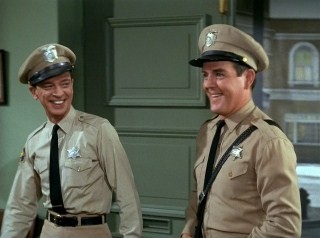 Barney Fife and Warren Ferguson:
Why can't Mayberry be both their towns?





At the end of the episode, Barney remarks, "It's his town out there now, Ange." Warren would appear in only two more episodes and disappear. What was up with that? What a tease that was. According to Mayberry Memories by TAGS foremost experts Ken Beck and Jim Clark, The Legend of Barney Fife was filmed on November 29, 1965. By this time, four Warren episodes had already aired. If he was so disliked by TAGS viewers, the writers probably knew it by then. Andy Griffith admitted in The Andy Griffith Show by Richard Kelly (page 59) that it was decided "just before Christmas" that Warren would be written out of the show. So, in less than a month, Mayberry went from being Warren's town to being a one-sheriff/no-deputy town. Why even entertain the notion that it is Warren's town if the writers probably planned on writing him out of the series anyway; you know what I mean, huh? huh? huh?