Analysis


Andy Flip-Flops

Andy changed his attitude about the missing pin surprisingly quickly. He did not do a complete 180 as he never agreed with Warren on the possibility that the pin was stolen; but he did introduce the idea of collecting insurance on the pin without a second thought. Certainly Andy believed the piece of jewelry would turn up eventually. Where could it have gone? If he ever once suspected theft, would he have admitted it and risked swallowing his pride in front of his ambitious young deputy? It seems odd to collect insurance on a "lost" pin that never left the house no matter how much Aunt Bee wanted a garbage disposal.
Warren Takes the Initiative
Here Warren exhibited his willingness to work unilaterally on a case that the sheriff refused to pursue. This trait was very beneficial when the only other law enforcement officer was a sheriff set in his ways. Andy was not perfect and, if the criminal element in Mayberry ever became more sophisticated or, for that matter, ever came into being, the Mayberry residents would be happy to know they had a deputy on their side and willing to take on such cases while the times passed Sheriff Taylor by.

Warren used appropriate and useful observations about Aunt Bee to forge his theory and seemed to have an effective plan of action. Granted, Goober was not the best choice for "special deputy," and his questioning style was, well, questionable; but he, of course, was untrained. Warren would have conducted a more serious investigation. New to Mayberry's cushy jail with the fancy table lamps and doilies, Warren probably did not realize the motivation for a homeless man to make a false confession in order to be locked up. In time, Warren would have learned these tricks and would have solved many a case, with or without Andy.
"Disposing" of the Pin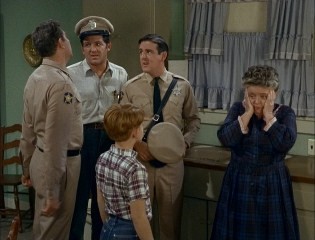 Andy looks at the real culprit
of the disposal incident.
The use of the laugh track when Warren says, "I wouldn't want to see Goober get in any trouble," implied that the audience should find Warren responsible for the "disposal" of the pin. When reviewing the incident, however, one sees that it was Goober who initiated the action that led to the dropping of the pin. Warren was admiring the brooch and refused Goober's request to look at it. Instead of waiting for Warren to finish inspecting the pin, Goober reached for the piece of jewelry and Warren reacted naturally by stretching the pin away from Goober's greasy mitts and, unfortunately, above the drain. It was the scuffle that ensued when Goober reached for the pin that caused it to fall into the disposal. Of course, all was well in the end as the Taylors were able to keep their claim and Aunt Bee was able to keep her garbage disposal which she seemed to enjoy far more than the brooch she forgot she had. Still, showing a tremendous sense of empathy, Warren worried that Goober would get in trouble. He was a swell guy, wasn't he? huh? huh? huh?