Analysis


Warren's Last Ride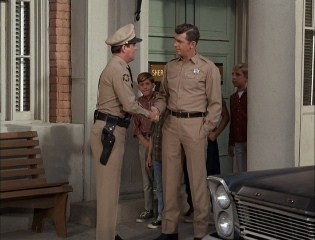 It was nice knowing ya.




Wyatt Earp Rides Again was Warren's final episode and it was not a memorable one. Warren's superior arm strength [at least in Mayberry] is revealed and his match with Clarence Earp was his one big scene. The writers must have known that Warren's character was to be written out of the series as, for the most part, he had a background role, not even comedy relief. What if Clarence Earp took out Andy at high noon like his alleged great uncle took out so many bad guys back in the day [actually, I think the real Wyatt Earp beat up a few dancehall girls]? Clarence Earp lived by the code of the old west and also seemed a bit obsessed with his gun-slinging image [Barney would have called him "a nut"]. Who knows of what he was capable? Warren would have become the new sheriff [at least on an interim basis]. This possibility should have given Warren more air time. Curiously, the potential of Warren succeeding Andy is not even brought up though it must have crossed each of their minds. Still, Warren concentrated on his job and, instead of interfering with the stand-off or begging Andy not to go through with it, he stayed focused on the Mayberry citizens, making sure the kids stayed away from the scene of a possible shoot-out. Rest assured, no matter what happened, Mayberry was in good hands.





What Happened to Warren?
and Warren's Legacy




What happened to Warren? The writers never say. He just vanished and his name would never again be uttered on the show and not even on the reunion specials, although Jack Dodson rattled off Jack Burns's name when he was breezing through a list of actors who were semi-regulars on TAGS during an Andy Griffith Show reunion aired sometime in the 1990s. Maybe Warren joined the FBI or the CIA. Maybe he was discovered as a brilliant mosaic tile artist and toured the world displaying his creations. Maybe he sleep-walked (or is it slept-walked?) back to Boston.

A more plausible explanation is that Helen fell in love with Warren after the sleepwalking incidents to the point that Andy had to physically restrain her or else she'd be all over him. In the original airing of 'Warren's Eleven,' Helen does not appear in the remaining 4 episodes after Girl-Shy. In the order that the episodes were filmed, after Girl-Shy, Helen only appears in The Church Organ during which she anxiously agreed to work with Warren (and only Warren) on the church organ committee (...hmmmm). Anyway, afraid of losing his girl to his handsome, young deputy (he had a lot of Tuesday night dates invested in her), Andy called in a "favor" from one of his law connections and had Warren sent away on a trumped up charge. Mayberrians, with no reason to doubt the bogus charges, regarded Warren as a disgrace and never mentioned his name again.

As conceivable as this theory sounds, we will never know the real reason for Warren's departure. What we do know is that he was not replaced. Andy would never again have a full-time deputy. Being the only law enforcement officer in town must have been very taxing; no wonder he continued to be such a grouch. Warren's tenure was very short but he deserved some explanation for his exit from Mayberry. At least he left us with 'Warren's Eleven,' being the featured character in five of the episodes (The Bazaar, A Warning From Warren, The Cannon, Girl-Shy, and, sharing the main role with Otis, Otis the Artist), playing a significant part in two of the episodes (The Church Organ and The Legend of Barney Fife), and, in two other episodes, poviding comedy relief during the season where TAGS began being more story-line and less slap-stick based (Aunt Bee Takes a Job and Lost and Found). Still, his character is sometimes forgotten by TAGS fans and was not even listed on several TAGS websites (until this author pointed out the glaring omission to the webmasters). This website thus serves as Warren Ferguson's "Revenge" (not even Howard Sprague has such a site) which leads to my:



Ode to Warren

There once was a deputy named Warren,
Whose Boston ways seemed a bit foreign.

But when he stamped out gambling,
Cannonballed the museum thieves,
And almost changed a drunk's life,
The folks of Mayberry realized
He was the perfect replacement for Barney Fife.

When the dashing Warren was around, the females were in heaven,
But, alas, the episodes he lasted numbered only eleven.

But during his brief stay,
Did he make people laugh?
Did he make people smile?
Did he entertain?
Well, duh!

So, please give Warren a chance...
Won't ya, huh-huh-huh?